Welcome to the YSPF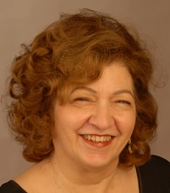 © Fred Cattroll
Welcome to the YSPF's upcoming 2017-18 season. It will consist of three concerts and one fundraising concert. The dates are:
October 28, 2017
January 27, 2018
March 24, 2018
June 9, 2018 (Fundraiser)
All concerts take place on Saturdays at 7:30 p.m. at the First Unitarian Congregation of Ottawa, 30 Cleary Ave.
I hope that we will all be ready to support and encourage our young talents by attending the concerts!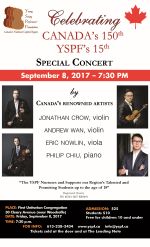 Before we leave our 2016-2017 season, we would like to announce a special concert on Friday, September 8, 2017 to celebrate two anniversaries: Canada's 150th and the YSPF's 15th. We are honoured that several renowned Canadian artists will perform at this concert.
Guest Artists
Jonathan Crow, Concertmaster of the Toronto Symphony Orchestra, member of the New Orford String Quartet and an Artistic Advisor to the YSPF,
Andrew Wan, Concertmaster of the Montreal Symphony Orchestra and member of the New Orford String Quartet
Eric Nowlin, Associate Principal violist of the Toronto Symphony Orchestra and member of the New Orford String Quartet
Philip Chiu, Concert pianist and collaborative chamber music pianist
Ticket Prices
$25 for adults
$10 for students
Ticket Availability
at the door
at The Leading Note, 2-370 Elgin Street
Further Information
Send an email to , or
Call 613-238-3434
Joan Milkson
President